From concept to installation

The other day I was flipping through my sketch book, and I found this sketch for my show "In search of happiness", and it was an amazing feeling when you place the sketch and the final show side by side.
Written descriptions
Most galleries are booked 6 months in advance, some of them are even booked 12-18 months in advance. That means you wouldn't have all of the works ready at the time of proposal writing. However, you should have a written description of what you'd like to show and past work to support that. Being ambitious and doing something completely new is encouraged in most research based galleries, but if you are starting out, there is also the question of deliverability. Below is my show description in my proposal: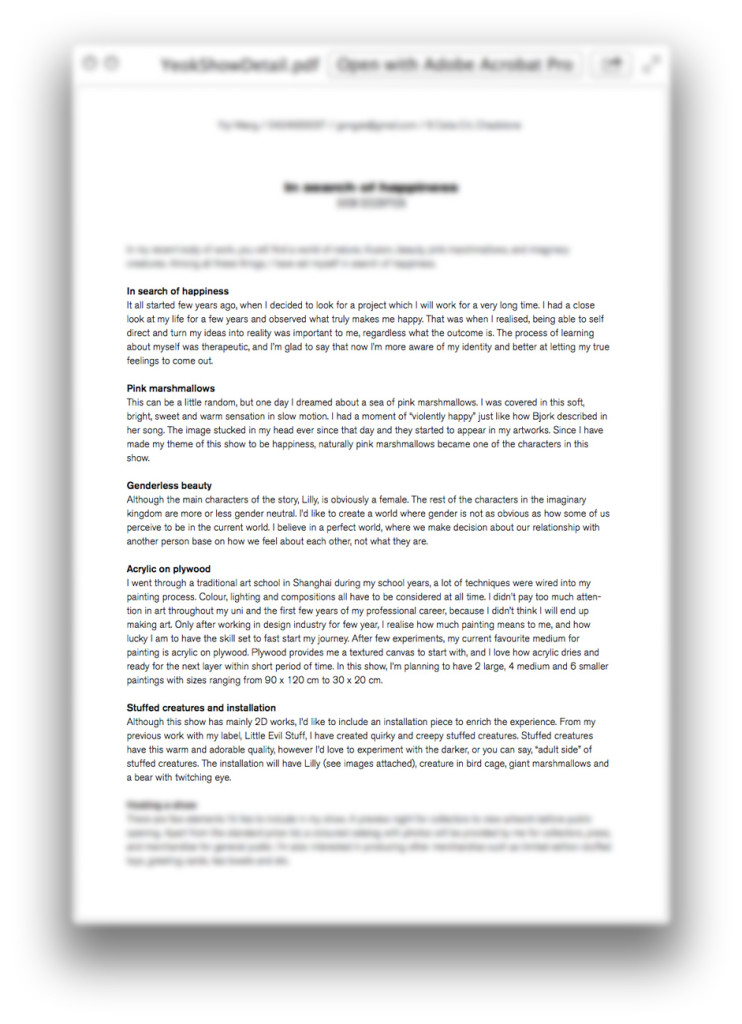 To be honest I suck at proposal writing. Reading this now doesn't make me feel proud. But I really tried to explain my idea at the time as much as possible.
The visualisation
Showing your previous works and writing about your show might seem obvious to you, but it can still be hard to illustrate the picture for someone who has to go through a ton of proposals. That's when visualisation comes in. I have created this initially to further explain the look and feel of the show: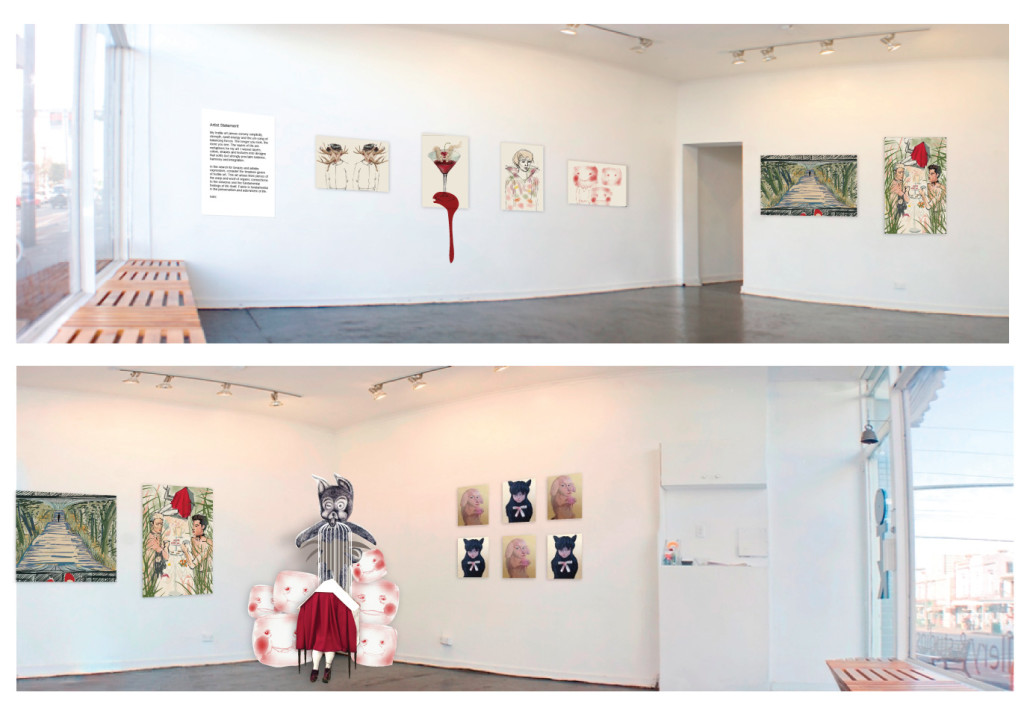 As you can see, it's quite different from the final installation, but it gives a general idea of the colour, quantity of work and types of work. Throughout your progress of preparation, you will iterate the plan base on practical details, work in progress and the availability of the gallery space (I ended up getting the back gallery since it suits my mood better)
Floor plans and iterations
I can't tell you how much I struggled with the floor plan. I wanted it to be perfect, so I measured each wall and pieces to do a 2D version of visualisation. Towards the end, I made a mistake of not showing this to the gallery before installation. I thought it was all crisp and clear in my mind, and I forgot that not everyone was on the same page. So please don't make the same mistakes I did, communicate early and explain as much as you can. You can never over explain anything.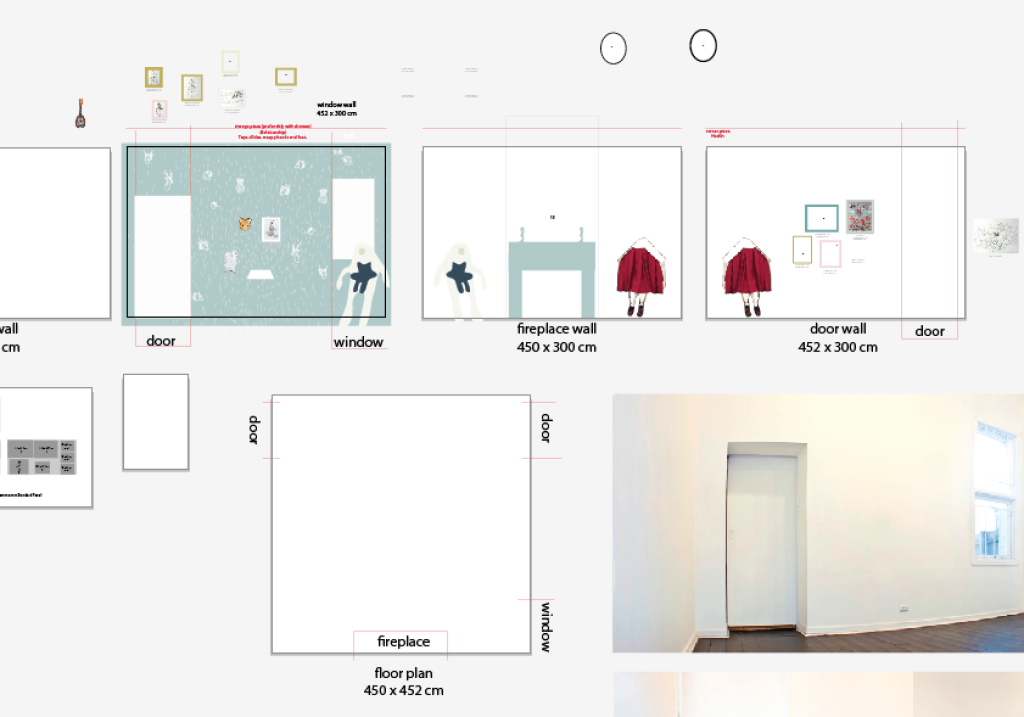 Installation day(s)
I wanted to paint a side of the wall to reduce the stares of gallery white walls, and I had few pieces of furnitures to create the  experience of a familiar setting. The fireplace was a last minute decision because we found a strawberry shaped detail to match one of my paintings. It took us three visits to drive everything into the gallery and paint the wall, I was extremely happy with the end results.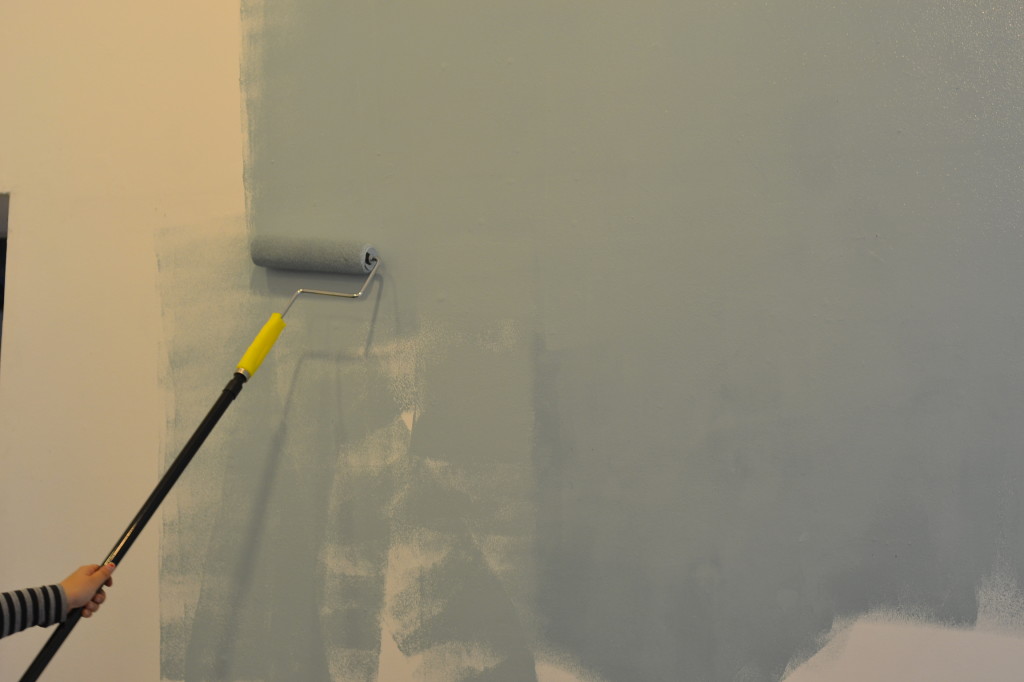 So there you go, my process from concept to installation of my debut solo show, hopefully this will help you in some way